Christmas for me has been made up of a series of traditions that cannot be left behind, and I would not want to have it any other way.
The Christmas spirit begins to be felt around the house when my mom and I take out the boxes that contain the Christmas tree and its decorations, every year different ones according to the color scheme we decided on. Usually, we try to have the Christmas tree done by the 8th of December, but this year we put it up earlier because we felt that the house needed that extra touch of happiness. You may ask why it is a job for two people. Well, my mom fixes the lights and I choose, hang the decorations, and make the big bow that will function as the tree topper (getting glitters all over myself and in between the tiles during the process). At the same time, we also put somewhere around the house the tiny tree that was bought for my first Christmas, and that works still perfectly fine as if it was brand new. A true vintage piece.
More recently, Christmas has started to mean also finding new DIY recipes to decorate the house. Basically, anything that would not take too much effort but that still looks pretty cute as decorations. This also ties perfectly with my traditional role during Christmas, that is to say setting up the table. It has now become a challenge to come up with new and exciting ideas to decorate the table for Christmas Eve, Christmas itself and the 26th.
Traditions also mean waking up to the delicious aroma of honey and fried sweets, another staple of Christmas in a Southern household. Even though my family is a mix of Sicilian and Calabrian origins, a big part of it resides in Campania, and for this reason you can always find struffoli in my house. Since I can remember, this time of the year meant several jars of honey around the house and my mom, with her apron on, diligently cutting the dough into little pieces. This tradition went through a few changes during the years. In fact, recently my mom started saving a little portion for one of my friends, who loves my mom's struffoli so much that she felt the need to include him in this Christmas tradition.
Christmas time, also, has always meant that my grandma would make turdilli. Their fragrance is vividly present in my memory. Nowadays she cannot knead because of her age, so the tradition passed onto mom and, this year for the first time, myself. Apparently this year we decided to try new things or give starts to new traditions because we also try to make scalille, which apparently my granpa loved. It did not go too well because neither of us knew how to make the proper form, but there is always next year to improve. Also, it is the thought that counts, right?
All in all, traditions are a big part of us, and they are more needed than ever during this year that seems so keen on forcing us to break some of them, such as celebrating all together. As such, my family, as probably many other families, we tried to stick to as many traditions as possible to give some feeling of normality.
Christmas recipes: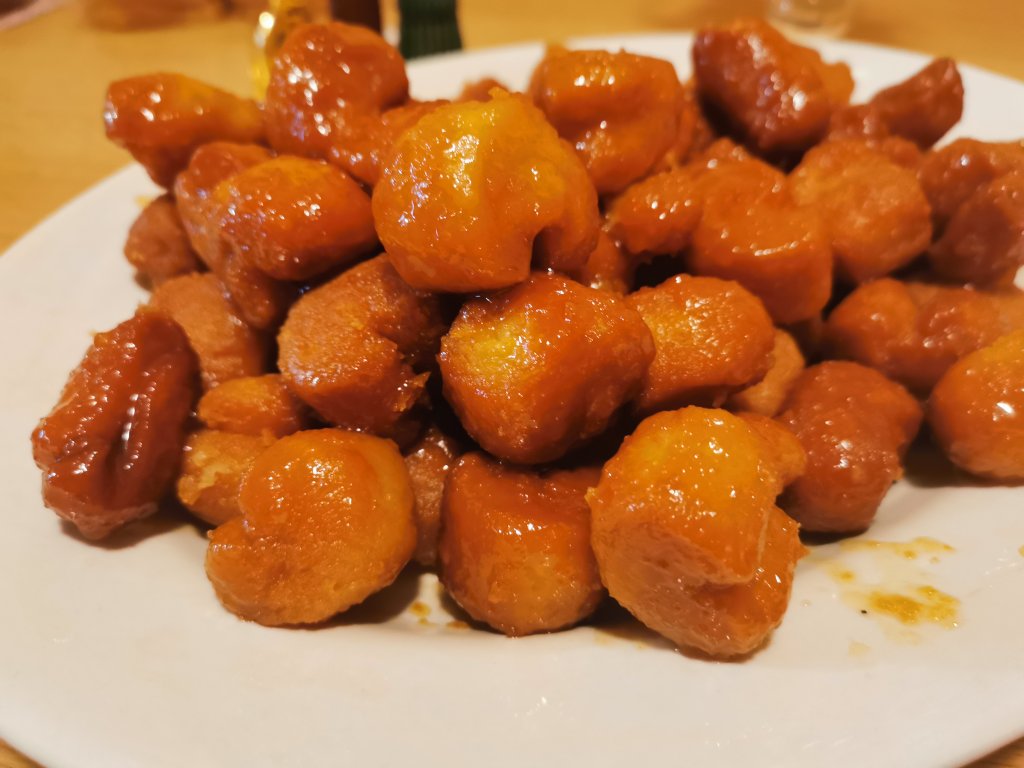 Ingredients: olive oil, sweet wine (Passito and Moscato i.e.), flour, cinnamon sticks, cloves, a tablespoon of sugar, 1 bag of dry yeast (16g), vegetable oil, honey
Preparation:
Boil the same amount of oil and wine for a few minutes with a few cloves and 2-3 cinnamon sticks
Let it cool down and pour slowly onto the flower mixed with the sugar and the yeast
Add the amount of flour that the batter will absorb (you will see that after a while you will have flour residues, which means you don't need to add more)
Knead until soft but firm
Divide into portions and roll it into long sticks (the thickness of your thumb more or less)
Cut the sticks into square bits of around 3-4cm and, with your thumb, push the bits onto a fork, or a rigagnocchi, and try to curl them around it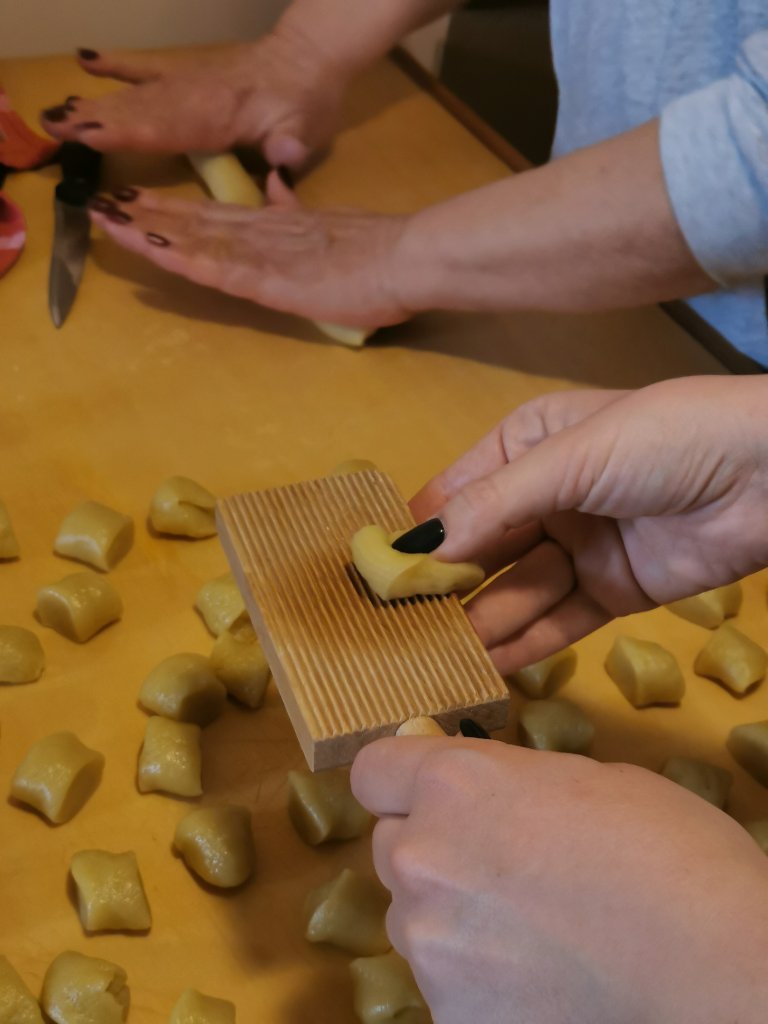 Fry in vegetable oil for 7-8 minutes
Heat up the honey and, when it boils, add the turdilli, which have to cook for 2-3- minutes
Turn off the heat and put the turdilli in a skimmer to remove the excess honey
Put them on a plate and serve them!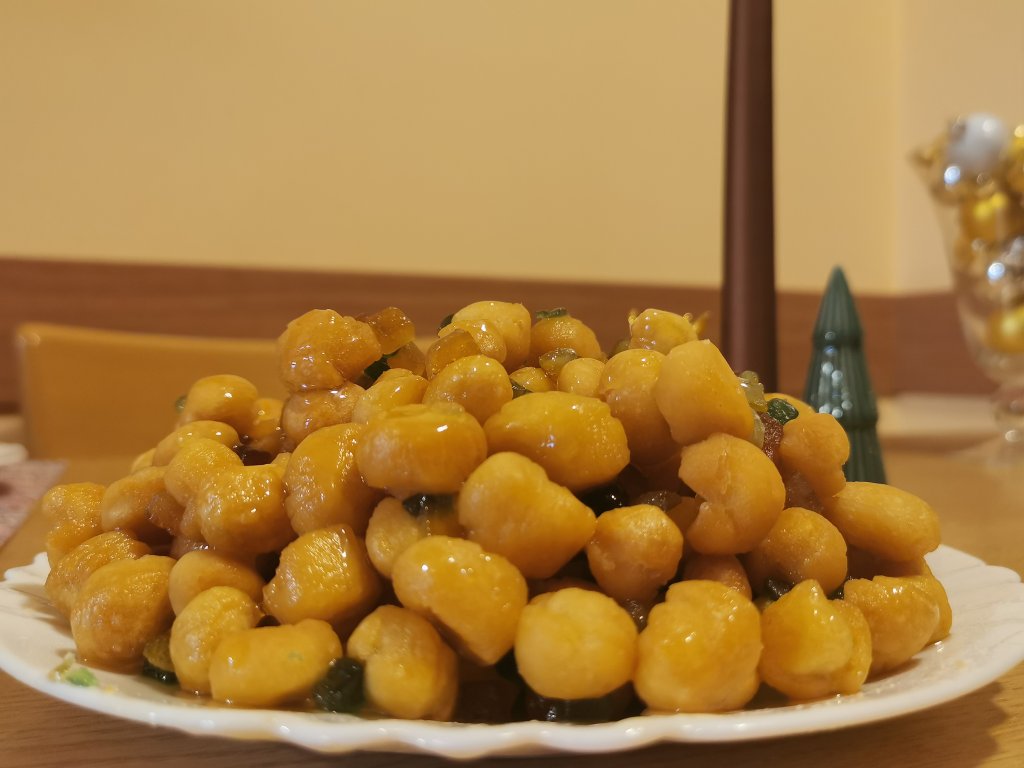 Ingredients: 3 eggs, flour, a grated lemon, Strega or anise liquor, olive oil, honey 500g, candied fruit 50g
Preparation:
Whisk the eggs in a bowl and add 2 tablespoons of oil, half a coffee cup of liquor and the lemon zest
Mix it well and add as much flour as needed to obtain a soft but firm dough
Divide into portions, add flour to the board, and roll the dough into long sticks (the thickness of your pinky finger more or less)
Cut into tiny pieces and roll them into tiny balls
Fry them in vegetable oil and remove when golden
Heat up the honey and, when it boils, add the struffoli and let it cook for 1 minute
Turn off the heat and add the candied fruit
Put the struffoli in a skimmer to remove the excess honey
Put them on a plate and serve them!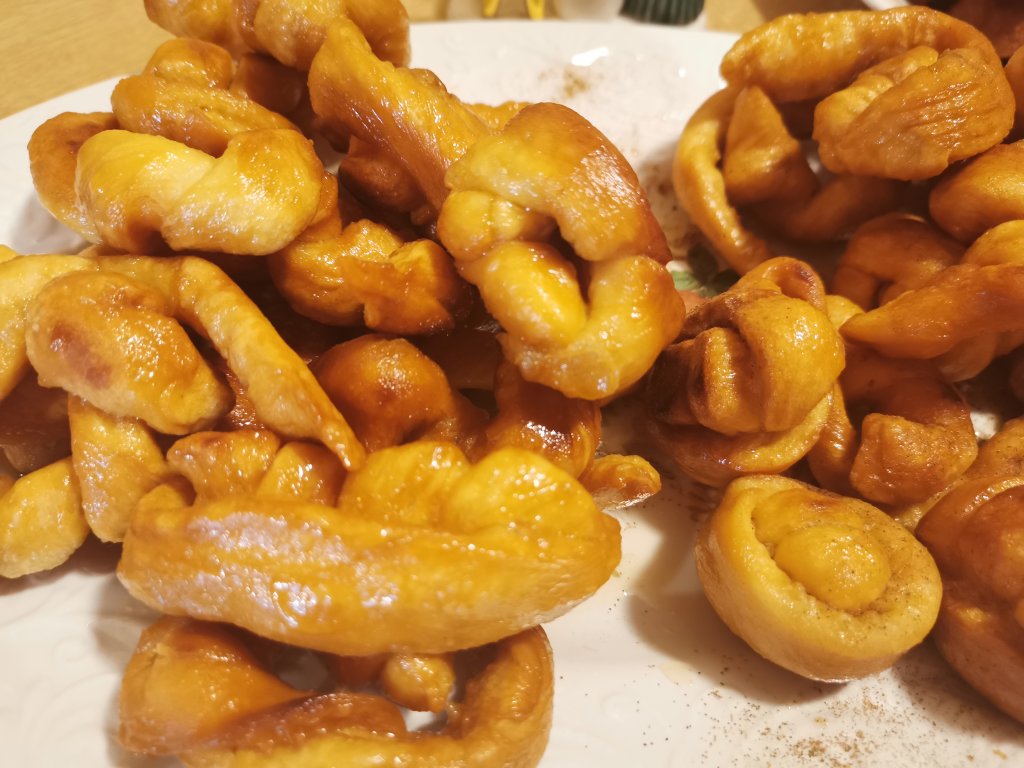 Ingredients: flour 400g (type 0), 4 eggs, 2 tablespoons of sugar, 2 tablespoons of anise liquor, 2 tablespoons of olive oil, a pinch of salt, a pinch of dry yeast, vegetable oil 500ml, 300g honey, a tablespoon of sugar, a pinch of cinnamon
Preparation:
In a bowl break the eggs and add sugar, anise liquor, oil, salt and yeast
Whisk the ingredients together and, when well mixed, add the flour little by little
Pass the dough onto a board and knead until soft, elastic but not sticky (15 minutes more or less)
Divide into portions and roll into long stick of around 20-25cm
Curl the sticks onto the handle of a wooden spoon dusted with floor 3 times, make a "circle" around the curls, remove from the stick and pinch the ends to close it
Fry them in vegetable oil and remove when golden
Heat up the honey and, when it boils, add the scalille and let it cook until golden
Put the scalille in a skimmer to remove the excess honey
Put them on a plate and serve them!